World Poetry Day 2019
Third edition of World Poetry Day
Granada, designated as a City of Literature by UNESCO, is celebrating World Poetry Day for the third time with a major cultural and social project based on public poetry readings. Between 6:00 and 9:00 pm on 21 March 2019, more than 60 of the city's poets will be reading their poems at 25 local bookshops. It will be a celebration for readers and writers to come together in the ideal meeting spaces: bookshops. Also, UNESCO Cities of Literature from all over the world have arranged their own events to be held simultaneously, all of which are being publicised by using the same international poster, designed by Jacinto Gutiérrez. This initiative marks the beginning of Granada's literary spring.
Literary spring in Granada
World Poetry Day, which falls on the vernal equinox, launches a literary season that is particularly fertile in the city of Granada. As well as the myriad regular activities organised by various public and private institutions, it includes such major events as the Federico García Lorca International Poetry Prize, the Granada International Poetry Festival (FIP) and the Book Fair.
Some history
On 21 March 2017 Granada City Council's Culture Department, through the Granada UNESCO City of Literature programme, and in partnership with the Diente de Oro Association, took part for the first time in the celebrations for World Poetry Day. The project consisted of a large-scale public poetry reading that involved 18 of the city's bookshops and 44 poets who live in Granada, including three winners of the Spanish National Poetry Prize: Rafael Guillén, Ángeles Mora and Luis García Montero.
The bookshops enthusiastically welcomed the readings on their premises and the poets invited showed immense generosity by agreeing to take part. The result was an unexpected success: 800 people filled all the spaces for the readings, turning a social and cultural event into a huge public party.
[ 2017 audiovisual by Antonia Ortega Urbano ]
[ View 2017 poster designed by Rafa Simón ]
[ View the full 2017 programme ]
Decisions
The success of that experiment had two consequences: the decision to make celebrating World Poetry Day an annual event, incorporating it into Granada UNESCO City of Literature's main programme, and the initiative for UNESCO Cities of Literature elsewhere to join in and share the celebrations.
[ 2018 audiovisual by Antonia Ortega Urbano ]
[ View the full 2018 programme ]
The UNESCO Cities of Literature joined the celebration in 2018
The project for the annual celebration of World Poetry Day was presented by Granada to the UNESCO Cities of Literature at their meeting in Barcelona in April 2017. The cities warmly welcomed the opportunity to celebrate this event jointly and simultaneously. In 2018 many of them took part by contributing a specific local event or events, but also linking their respective celebrations with the others via social media and a common communication strategy, with a view to turning the celebration of World Poetry Day by UNESCO Cities of Literature into a solidly established international project. A joint poster was designed in Granada, a joint press release was drafted, and the different actions in the cities were linked by a single discourse. The poets Georgina Wilding, from Nottingham (UK), and Anja Golob, from Slovenia, came to Granada to read their poetry together with poets from the city.
[ Press release published by UNESCO ]
[ Activities in other Cities of Literature for World Poetry Day 2018 ]
Hahstag #WorldPoetryDay
The project for 2019
In 2019 the project is maintaining the same identifying characteristics that have made it so popular in Granada: a tidal wave of poetry washes over the city's bookshops, with a special programme of children's poetry. This year, other outlets for book sales, including El Corte Inglés, FNAC Granada and OVNI Bazar Bizarro, have joined the initiative for the first time, and the number of bookshops taking part now stands at 25. Granada UNESCO City of Literature has designed a special joint poster for the 2019 edition, which all the UNESCO Cities of Literature can customise by adding the names of their cities, information on their own activities and their sponsors' logos.
Locally, World Poetry Day in Granada is again being organised in partnership with the Diente de Oro Association and the Centro Federico García Lorca Consortium, with support from the Spanish National UNESCO Cooperation Committee.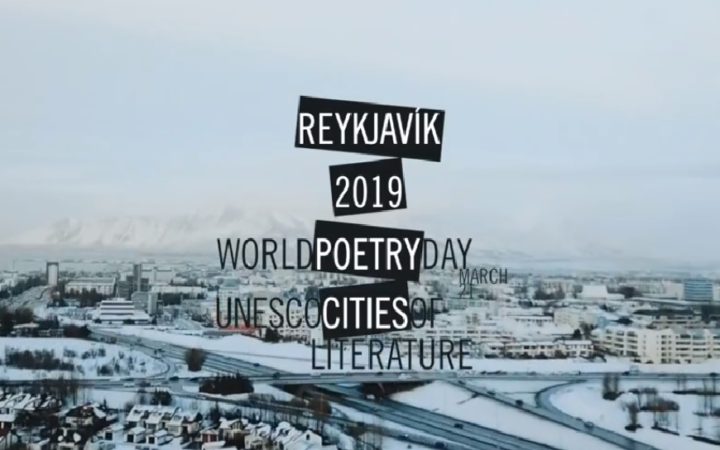 Objectives
By celebrating World Poetry Day we aim to foster the tradition of public poetry readings, engage the public with the richest cultural experiences, enhance the profile and support bookshops in their role as literary meeting spaces, promote our own writers, particularly young and emerging ones, and consolidate Granada's image both in Spain and abroad as a city of culture.
Readings
The poets invited to take part have all published at least one collection of poetry and were either born in Granada or now live in the city, although their age groups, career paths and artistic approaches vary greatly. The readings, each lasting about 15 minutes, will take place between 6:00 and 9:00 pm on 21 March 2019 at the 25 designated reading venues. The idea is to enjoy a friendly, festive atmosphere associated with bookshops and public poetry readings. Public information leaflets will be made available, showing the routes and times of all the readings, so they can choose which poets to go and see depending on their tastes and interests, because, as in previous years, it will be impossible to go to everything.
Discounts at bookshops
Each of the bookshops taking part in the project has agreed to offer a special discount or gift for everyone who buys a poetry book from them between 10:00 am and 9 pm on 21 March 2019.
Participating bookshops
Agapea, Alsur, Atlas, Babel (Gran Capitán), Babel (San Juan de Dios), Centro Federico García Lorca, Centro José Guerrero, El Corte Inglés (Carrera de la Virgen), El Corte Inglés (Arabial), Fnac Granada, Imagina, Inglés Divertido, Juan de Mairena y de Libros, OVNI Bazar Bizarro, Picasso, Picasso Infantil, Praga, La Qarmita, Reciclaje, Sostiene Pereira, Tienda de la Alhambra (Reyes Católicos), Troa Dauro, Ubú Libros, Un mundo feliz, Urbana Vergeles.
Poets
Juan Carlos ABRIL, Juan Domingo AGUILAR, Carlos ALLENDE, Jesús AMAYA, Carmen BARRANCO, Miguel Ángel BARRERA MATURANA, Javier BENÍTEZ, Marga BLANCO, Javier BOZALONGO, Begoña CALLEJÓN, Lola CALLEJÓN, Carmen CANET, Virgilio CARA VALERO, Pedro Luis CASANOVA, Eduardo CASTRO, Juan José CASTRO, Olalla CASTRO, Nieves CHILLÓN, Miguel Ángel CONTRERAS, Mónica DOÑA, Mónica FRANCÉS, Juan Carlos FRIEBE, Víctor Miguel GALLARDO, Trinidad GAN, Jesús GARCÍA CALDERÓN, Juan Andrés GARCÍA ROMÁN, Javier GILABERT, Teresa GÓMEZ, José Miguel GÓMEZ ACOSTA, Azucena G. BLANCO, Ioana GRUIA, Carmen HERNÁNDEZ MONTALBÁN, Fernando JAÉN, Ignacio LÓPEZ DE ABERASTURI, Juan E. MARTÍN, Rubén MARTÍN, Javier MARTÍN RÍOS, Luis MELGAREJO, Isabel MELLADO, Antonio MOCHÓN, Carmen MONTES, Jesús MONTIEL, Ángeles MORA, Gracia MORALES, Carmina MORENO ARENAS, Nieves MURIEL, Andrés NEUMAN, Enrique NOGUERAS, Alejandro PEDREGOSA, Juan PEREGRINA, Ramón REPISO, Milena RODRÍGUEZ, Gerardo RODRÍGUEZ SALAS, José Carlos ROSALES, F. David RUIZ, Alfonso SALAZAR, Álvaro SALVADOR, María SALVADOR, Fernando SORIANO, Marina TAPIA.
Programme for children
The Picasso bookshop will be holding a special session of their morning initiative "Get to Know Your Bookshops" for local schoolchildren. Between 6:00 and 7:00 in the evening, World Poetry Day will once again turn its attention to the little ones. Ana AGUILERA, Jesús AMAYA, Manuel M. MATEO and Ayes TORTOSA will be giving special readings of children's poetry, with special events for kids at the bookshops Picasso Infantil, Inglés Divertido, Un mundo feliz and Imagina. Also, for the sixth year running, during the morning of 21 March the city's public libraries will be organising a mass event to bring together Granada's schoolchildren, called Poetry Rap, at the Centro Federico García Lorca.
Other activities taking place in Granada for World Poetry Day 2019
"Latest News of Poetry Written by Women". A round table organised by the University of Granada's Federico García Lorca Chair of the University of Granada, featuring Rosa Berbel, María Domínguez del Castillo and María Elena Higueruelo. At the Madraza Palace (Gabinete de Teatro) on 21 March 2019 at 8:00 pm.
"Sixth Poetry Spiral Around the World", at the Charles V Palace (Alhambra) from 7:00 pm. Coordinated by Carmen G. Tortosa and Pedro Enríquez. More details here.
Late-night poets at La Tertulia. Fusion Jam and World Poetry Day
Begins at 10 pm.
La Tertulia is an iconic Granada café and bar, run by Horacio Rébora, and a venue for the best poetry and literature since the 1970s. Once the poetry readings at the bookshops have ended, everyone is invited to head for La Tertulia to carry on Reading and chatting. The World Poetry Day poets will join those from the Poetry Thursdays group, who from 7:30 pm onwards will be holding a special event called "Fusion Jam: Music and Poetry", coordinated by Alberto Sin Metáforas. More details here.