Poetry projections in Edinburgh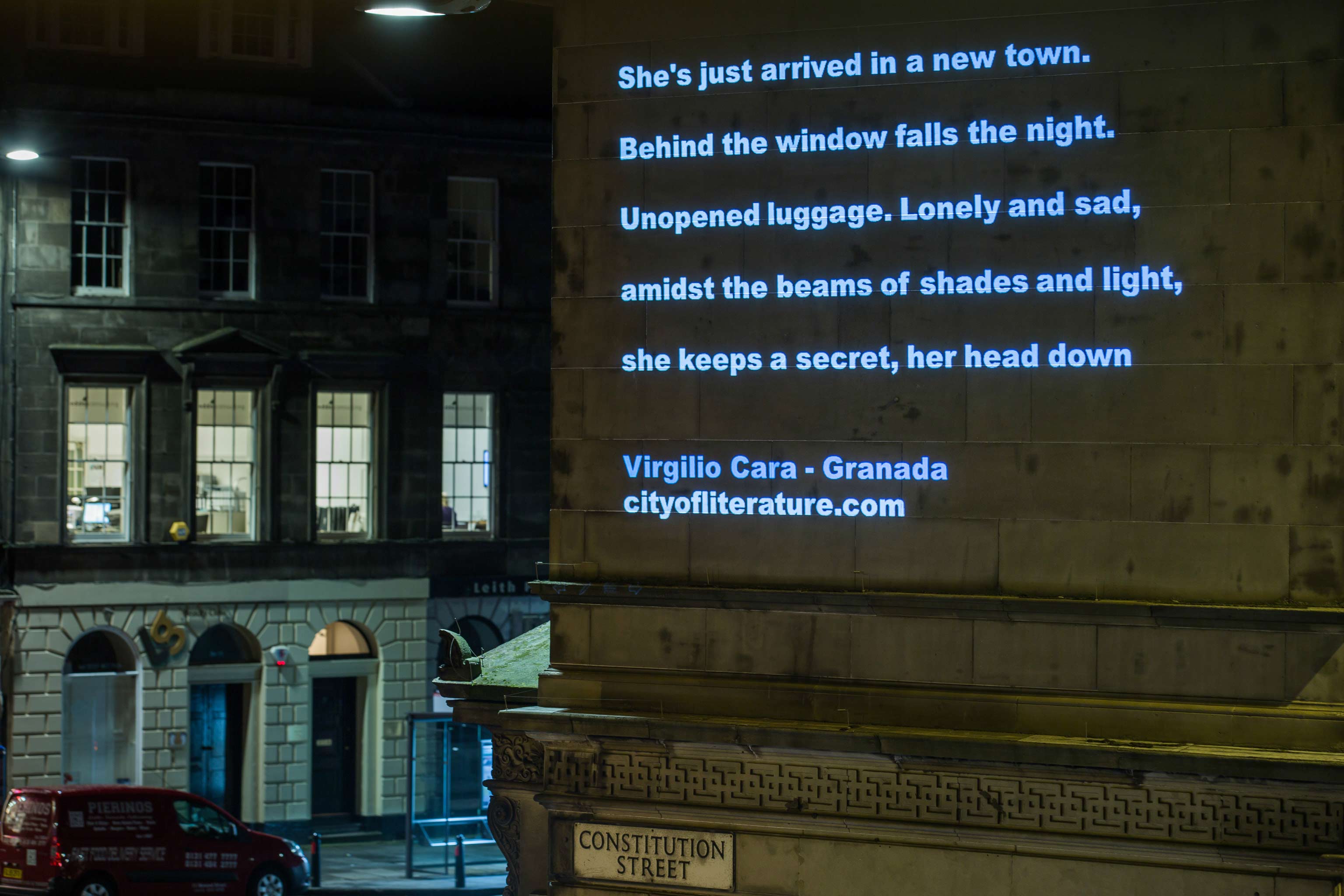 The Granada poet Virgilio Cara was invited by Edinburgh UNESCO City of Literature  to project his poems onto a historic building on Constitution Street, in Leith (Edinburgh), on 3–13 March 2016. The projections were part of the project Words on the Street, which aims to link literature to public spaces and build awareness of international poetry.
Eleven poems from the first eleven UNESCO Cities of Literature were projected onto the Royal Bank of Scotland building on Constitution Street on 3–13 March 2016. The projections, which were based on the model pioneered by Krakow UNESCO City of Literature and its Multipoetry initiative, were part of a number of projects with the common denominator of projecting texts in urban spaces in Edinburgh.
Virgilio Cara (b. Granada, 1964), who holds a degree in Hispanic philology from the University of Granada, is a secondary-school teacher of Spanish language and literature. Between 1999 and 2005 he edited the literary journal Los papeles mojados de río seco, and in 2012–2013 he organised literary activities for the Casa Molino Ángel Ganivet and wrote the prologue for La luz humana (Tres aproximaciones a la obra de Ángel Ganivet (Granada Provincial Council, 2012), a compilation of lectures given over that period. He is currently coordinating and advising on the poetry collection O gato que ri for Entorno Gráfico. As a poet he has published books including Los años que pasé fingiendo (Granada Provincial Council, 1998; winner of the Genil Prize) and No he visto lo que he visto; Epistolario apócrifo (Hiperión, 2004; Antonio Machado Prize); and Región del desengaño (Point de Lunettes, 2009).