"On Bestiary. Fantasy Literature Workshop", by Jorge Fernández Bustos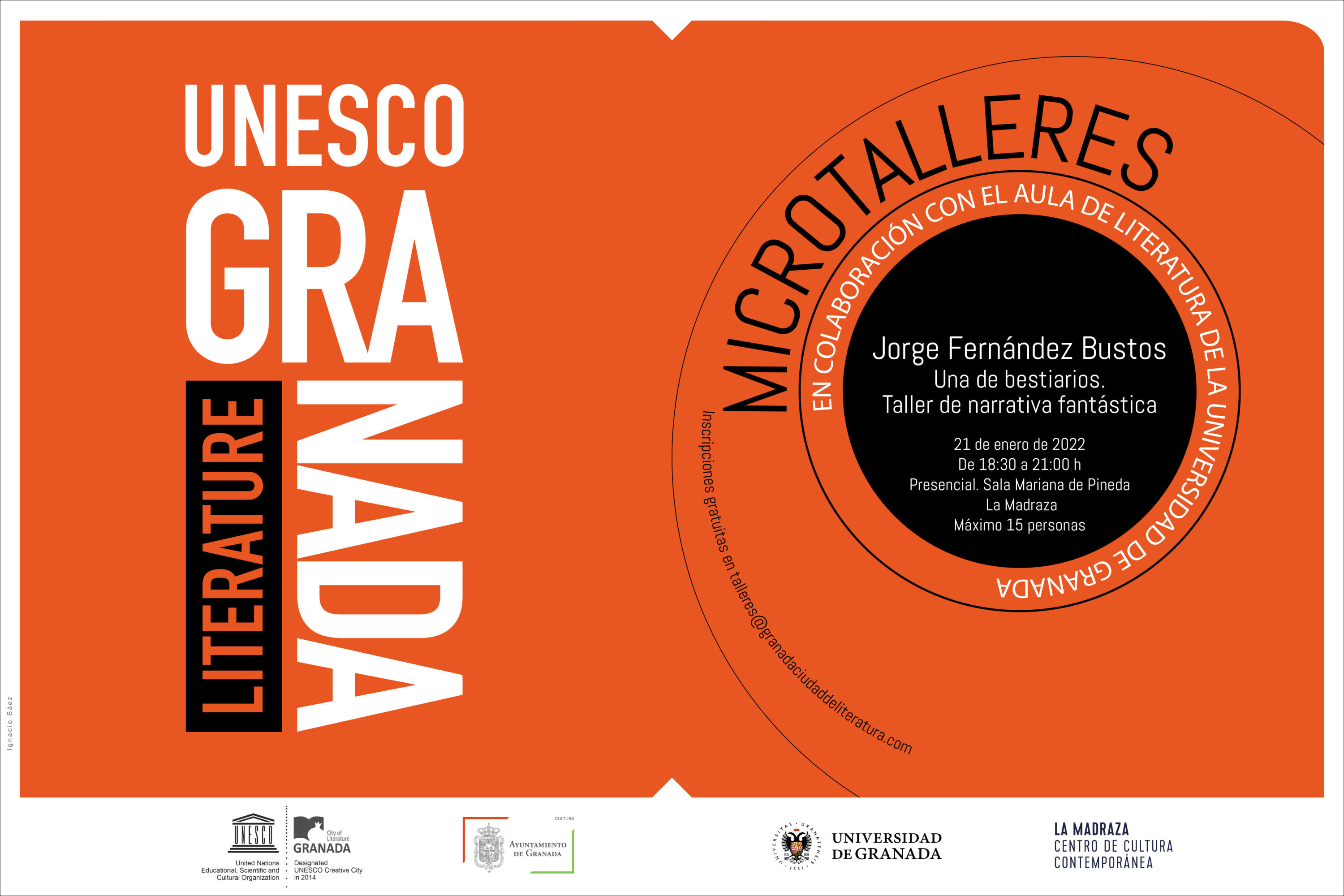 Since the fall of 2018, the Granada City of Literature UNESCO Programme and the Aula de Literatura of the University of Granada have been collaborating on a series of free micro-workshops on writing. Our micro-workshops deal with very diverse aspects of literary creation. They aim to stimulate enthusiasm for literature, to generate new audiences, and to foster a network of complicity between authors-teachers and participants. From the beginning of the project, the workshops have been celebrated on-site at the Madraza, but in 2020 they went both on-line, due to Covid restrictions. In 2021, however, they are going to be carried out both on-site and on-line, as they will do in 2022.
There are a maximum of 15 places for each workshop, expandable to 20 places if done online, on a first-come, first-served basis. Those interested in applying for participation should write an email to talleres@granadaciudaddeliteratura.com.
«On Bestiary. Fantasy Literature Workshop» — Teacher: Jorge Fernández Bustos — Date: 21 January 2022, from 6.30 pm to 9 pm — Venue: Sala Mariana de Pineda-Palacio de la Madraza, Centro de Cultura Contemporánea of the University of Granada.
The workshop
In On Bestiary. Fantasy Literature Workshop, after specifying the genre (definition of the fantasy), we will give a brief historical overview of the fantasy narrative in Spain and a brief classic international panorama; we will trace the main sources of this narrative, with special mention of the bestiary; we will expose the different trends of the genre of the last century and its sequels (authors); we will focus on the themes of the fantasy, and we will distinguish between fantastic elements in the novel and the fantasy tale.
Jorge Fernández Bustos
Jorge Fernández Bustos (Granada, 1962) has a degree in Library Science and Documentation. He was co-founder of the magazines El erizo abierto and Letra Clara, and in 1999 he won the Federico García Lorca Prize of the University of Granada in the short story category. He has published the book of short stories En un pozo chico (2013) and the novels Septimio de Ilíberis (2014), El ciego de Delos (2018) and Carlomagno en la ventana (2020). From March 2019 to September 2021 he has maintained a literary essay column in the digital La Voz de Granada, soon to be published under the title Reflejos de un mundo paralelo. A very important part of his work as a writer and critic has flamenco at its core: in the blog Volandovengo, from 2006 to 2015; in the newspaper Granada Hoy, from 2003 to 2009; in the magazine Acordes de Flamenco, from 2006 to 2009; and in the newspaper Ideal, from 2016 up to date.